Based on reviews
AquaSorb™ - Super Absorbent Microfiber Hair Towel
* Includes 1 year risk-free guarantee!
Finally, A Twist & Loop Towel That
Dries Your Hair in 5 Minutes

!
Super Absorbent Microfiber - 3X more absorbent than cotton
Less Blow Drying means less damage to your hair
Stays in Place thanks to the unique twist & loop system 
Lightweight so there is less strain on your neck
One Size Fits All - perfect for kids & adults
Machine Washable and dryer safe
Treat Yourself to the World's Most Absorbent Hair Towel! 
Did you know that the average length of women's hair is 12 inches? ...and that it takes anywhere from 10–20 minutes just to get it dry?
Not a problem anymore...AquaSorb™ gets the job done in half the time...5 minutes to be exact! 
This saves you precious time, especially in the morning. No more late appearances at work or in school!  
You Read That Right... 5 Minutes. But How Is That Possible?
AquaSorb™ features a super absorbent microfiber fabric that can hold up to 10 times its weight in water! Microfiber is also lightweight and very fine - about 1/100th the diameter of a human hair!
That creates a lot of surface area in which to absorb water. When AquaSorb™ comes in contact with wet hair, it sucks the water like a vacuum!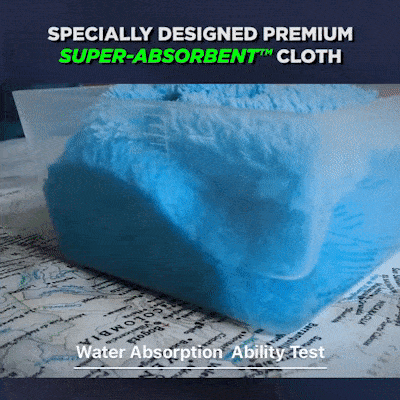 Less Blow Drying = Healthier, Shinier Hair
Hair dryers can take out your hair's natural shine, strength & moisture. This leads to frizzy, brittle hair, and a damaged scalp. It can even contribute to split ends & dandruff flare-up! 
You are likely aware of the high prices of hair treatment products. So you better say goodbye to your hair dryer and use AquaSorb™ instead! 
Be the Ultimate Multi-Tasker While Drying Your Hair! 
The unique twist & loop system of AquaSorb™ makes it the ONLY hair towel that stays in place. With its tapered design, it allows for a perfect fit so you can get dressed, apply make-up & check email - all while drying your hair! 
Say Goodbye to After-Shower Headaches!
You know the feeling. After a shower or a bath, your head feels heavy and tired from having to maneuver a conventional bath towel for a long time and from the excess moisture that doesn't get absorbed.
Well, with AquaSorb™, you can forget about that!
Perfect at the Poolside or at the Beach
AquaSorb™ protects your hair from the sun's UV rays. It keeps your hair dry and away from chlorine & other harmful chemicals.
It is made of the best quality materials. Hence it can take the wears and tears of daily use - regardless of how often you enjoy long baths or hot showers!
It is also soft and gentle, which means you can use it on fine, thin, medium, thick, or coarse hair!
Place Your Order Now & Get Rid Of Your Old, Impractical Cotton Towel Once & For All!
* Feel free to email us your feedback at reviews@zapwalk.com *
Our 1 Year Risk-Free Guarantee
We're so sure you'll LOVE it that we're offering a 1 year guarantee on this one! If you aren't satisfied with this product - for any reason at all - just send it back and we will rush your refund to your card. No risk! 
---